30 Years of Namibian Independence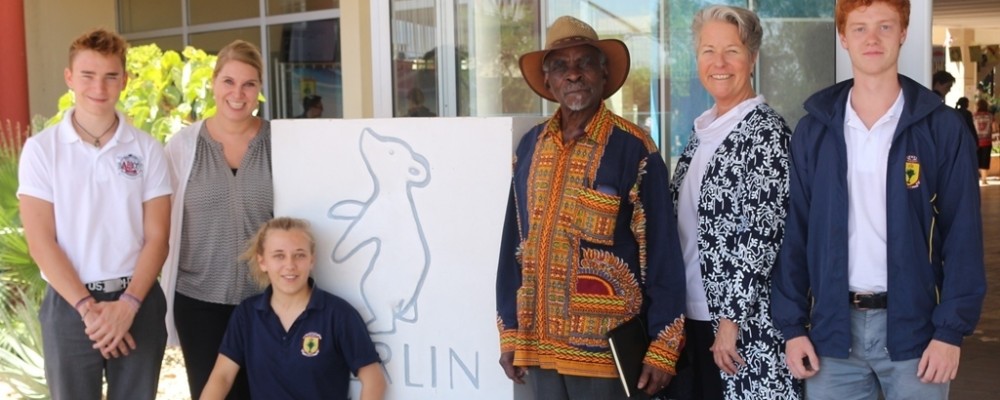 30 years of Namibian independence, this is a milestone, not only for this wonderful country, but also for all institutions and the Namibian people - including the Deutsche Höhere Privatschule Windhoek (DHPS), where the celebrations were pre-arranged due to the mid-term break.
On 12 March, the DHPS campus was immersed in a turbulent colourful hustle and bustle with impressive traditional dresses, dominating the school wear and the topic of cultural diversity was addressed in several lessons - whether history, politics, art or music.

Secondary section learners had the privilege of welcoming a VIP: Former Namibian Prime Minister Nahas Angula visited the DHPS on the occasion of the celebrations and did not miss the opportunity to get a picture of the school before his discussion round with grade 10-12 learners.
Angula, who was guided through the DHPS campus by Principal Kristin Eichholz, gained many insights into the technical, musical, socio-political and cultural areas of the school and was impressed by the diversity of the educational programme and the cosmopolitan learners of this German school abroad. Especially the technical workshops, where he could observe young Namibians working with wood and metal, welding and hammering, left a lasting impression, as the high-ranking politician himself is committed to imparting practical skills and abilities within the framework of his civil society training and further education organisation COSDEF (Namibia Community Skills Development Foundation).

The highlight of the visit was the discussion with the DHPS secondary section, in which Nahas Angula patiently responded to the critical and very relevant questions of the learners. The Fishrot scandal and the fight against corruption in Namibia, the efforts of the Namibian government on climate protection, school dropout rates, the economic recession, achieving Namibian unity through diversity, dealing with the coronavirus and involving the youth of political parties were just some of the topics the young adults reflected on and eagerly listened to Angula's statements.

The school community is grateful for this opportunity to welcome such a high-ranking political personality to the DHPS.This was acknowledged by the learners with their keen participation in the discussion and many questions reflecting their identification with and concern for Namibia.
Gallery