Kurt Böhme Speech Competition 2019
Kurt Böhme Speech Competition 2019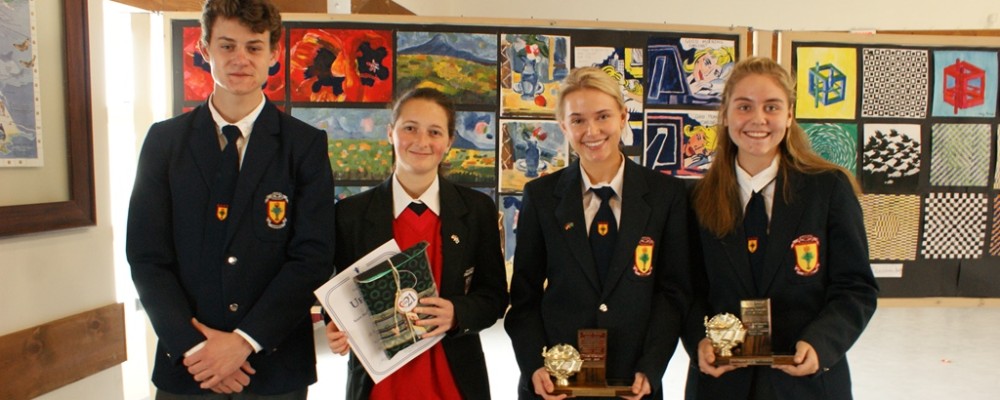 Top-class speeches, great presentations and successful exchange between learners:
The Kurt Böhme Speech Competition, an initiative of the Arbeits- und Fördergemeinschaft der deutschen Schulvereine in Namibia (AGDS), was held for the 32nd time for learners to present their narrative skills to the public.

This year, the competition was hosted by Privatschule Swakopmund (PSS) on 13 July 2013 and the participants from Delta Secondary School Windhoek, the PSS and DHPS presented their speeches to a jury comprising Anka Delius, Stefanie Kirchner, Sylvia Fritze and Britta Gillner.

In the Junior category, Désirée Kollmitz and Cara Köpplinger represented the DHPS with the topic "Fridays for Future – we'll be there!".
We are particularly proud of Cara's first place for her speech.

In the Senior category, Nicolai Koch and Valerie Trübenbach competed for the DHPS.
Nicolai eloquently presented his thoughts on the topic: "Genetic engineering - an intervention in God's creation?" and secured himself an amazing 2nd place.
Valerie convinced with her excellent talk and arguments on the topic of "100 years of suffrage for women still don't mean equal rights" and took 1st place - Congratulations!

The relevance of the topics contributed to a lively exchange between the learners of the participating schools, giving rise to first ideas on a common project "Fridays for Future".

Thank you very much for this successful event. We may now look forward to the gala evening of Projekt Lilie in September, where the winners will present their speeches to the audience - Congratulations, Cara and Valerie!
Gallery