DHPS Alumni Association, NWG & NEWS hand over donation to Save the Rhino Trust
DHPS Alumni Association, NWG & NEWS hand over donation to Save the Rhino Trust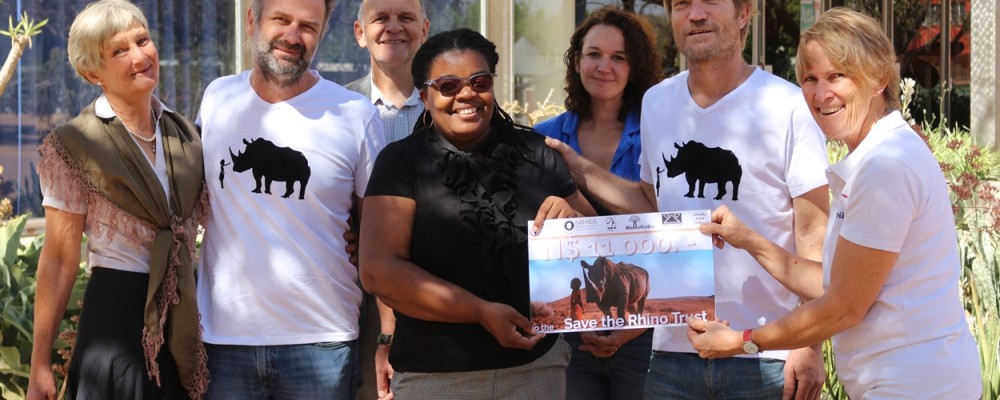 In cooperation with the Namibian Scientific Society (NWG) and the Namibia Environment and Wildlife Society (NEWS), the DHPS Alumni Association initiated a high-profile event on 26 September 2019 – the public screening of the Namibian short film "Baxu and the Giants" just a few days after its world premiere at the auditorium of the Deutsche Höhere Privatschule Windhoek (DHPS).

The organisers as well as the visitors were delighted by the large audience when the story about rhino poaching through the eyes of nine-year-old Baxu was screened and were impressed with the touching short film from their own country, and the high expressiveness of a limited number of words. Especially the young main actress, Camilla Jo-ann Daries, stood in the spotlight of the evening alongside director and co-writer Florian Schott, co-writer and co-producer Girley Jazama and producer Andrew Botelle.
The hosting organisations unanimously agreed that the proceeds of the evening should go to the "Save the Rhino Trust" (SRT). The overwhelming amount of N$11,000 was handed over to Maxi Louis (chairperson of the SRT Board of Trustees) at the DHPS on 8 October 2019.
"I had the privilege of attending the screening of "Baxu and the Giants" at DHPS. It was incredibly encouraging to witness the passion and interest that Namibians have for rhino conservation", says Andrew Malherbe, SRT Chief Operations Officer. "These animals are without doubt part our national heritage and the generosity shown by the decision to donate all proceeds to SRT is an acknowledgment of this. Our work at SRT is 100% dependent on donor funding so on behalf of the entire organization, a big thank you!"

Further contributions are highly appreciated and can be transferred directly into the following SRT bank account:
SAVE THE RHINO TRUST
NEDBANK NAMIBIA, Swakopmund
BRANCH CODE : 461-052, ACC NUMBER : 11000082068, SWIFT Code : NEDSNANX

The amazing "Baxu & the Giants" T-shirts (see photo) will be available shortly from the participating organisations.