Dribble, Pass, Shoot, Score! - DHPS and BAS celebrate friendship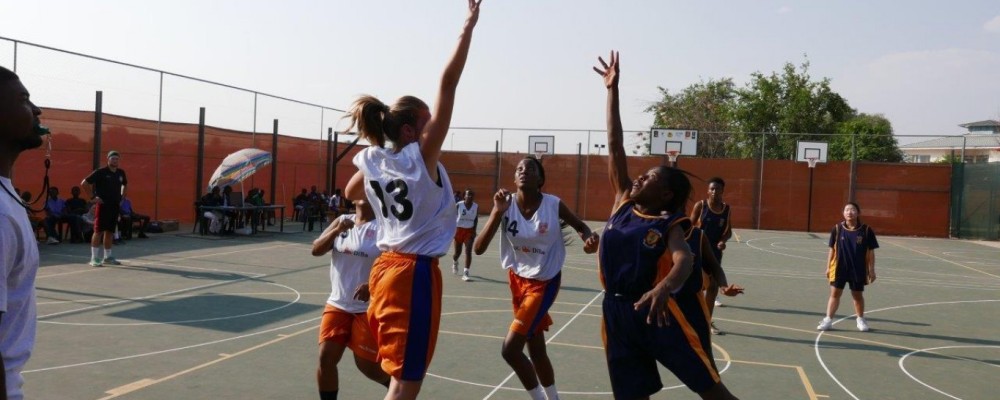 The first joint basketball camp by DHPS and the Basketball Artists School (BAS) Foundation was held in May 2017 at the DHPS sports grounds and gym and already was a huge success.

About 50 people, including several junior coaches, took part in the basketball camps which comprised dribbling, passing, shooting and layup exercises, as well as conditioning, games and contests.

The camp in May was the first real intense training for many of the DHPS players and the positive impact on their skills development was obvious.
Now the fruitful cooperation entered its second phase, as part of the "German Weeks" in Namibia, on 22 September 2017:

DHPS and BAS celebrated their friendship with three basketball games in the categories U15, U19 boys and U19 girls. The tournament took place at BAS in Katutura and was part of the German Weeks 2017 in cooperation with the German Embassy.

Players of DHPS and BAS played together in mixed teams to emphasize on friendship rather than on rivalry. Awards were given out for best sportsmanship, best defensive player and most valuable player. DHPS principal Kristin Eichholz said: "Today BAS and DHPS intensified their cooperation in order to support youth basketball development in Namibia. DHPS benefits from the skills of the BAS players and the expertise of the BAS staff. As always, preparation was characterized by mutual respect and reliability."

A strong bond once again developed between the athletes, coaches and participants and it was a great opportunity to personally and athletically overcome challenges, make new friends and strengthen this cooperation.

"The tournament was an extraordinary experience for everyone involved, and after completion of our gym hall, we look forward to finally being able to invite the BAS teams to Church Street again.", emphasized Eichholz and is looking forward to the completion of the new sports hall at DHPS in 2018.