DHPS School Concert a great success
DHPS School Concert a great success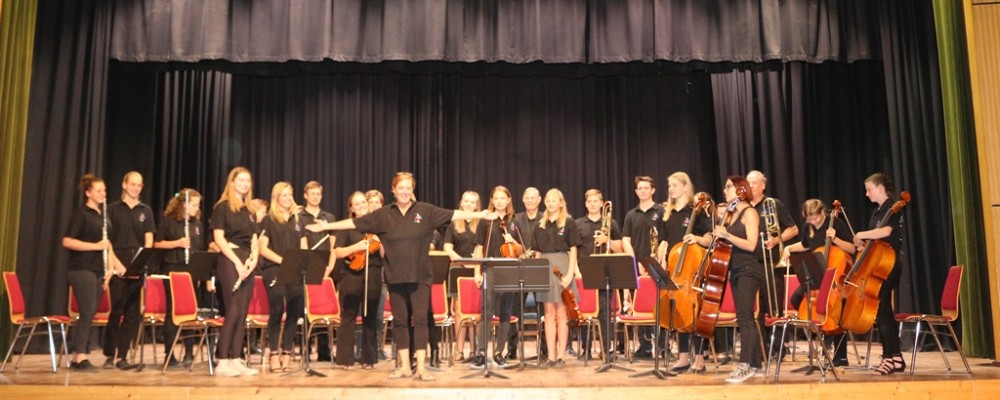 Since the beginning of the school year already, interesting pieces of music have been collected, dili-gently rehearsed and played together. The big goal of the grade 2-12 learners of the Deutsche Höhere Privatschule Windhoek (DHPS) was the annual school concert on Tuesday, 24 September 2019.

All the hours of practise eventually paid out - never before was a concert attended by so many par-ents, grandparents, friends and music enthusiasts as this year and the DHPS auditorium literally burst at its seams.

The young musicians captivated the audience with a colourful musical programme that ranged from snazzy dance movements and traditional flute ensembles, to inspiring songs by the school choir groups and rock sounds by the brass classes.

The grand highlight was the DHPS orchestra, which presented both classical and modern pieces. The compositions were part of the repertoire of the Orchestra Week of the German Schools in Southern Africa that took place in Windhoek in March.
Especially the final piece, the famous "Circle of Life" from Lion King, which was performed on stage by all 200 participants together, stirred the spectators' hearts and encouraged everyone to sing along.

The crowded auditorium, proud musicians, high-quality music, varied programme and of course the great atmosphere during and after the concert made this another successful evening and splendid school concert, of which all participants can be proud.
Gallery