DHPS as a partner in the Special Olympics: Namibian team takes bronze
DHPS as a partner in the Special Olympics: Namibian team takes bronze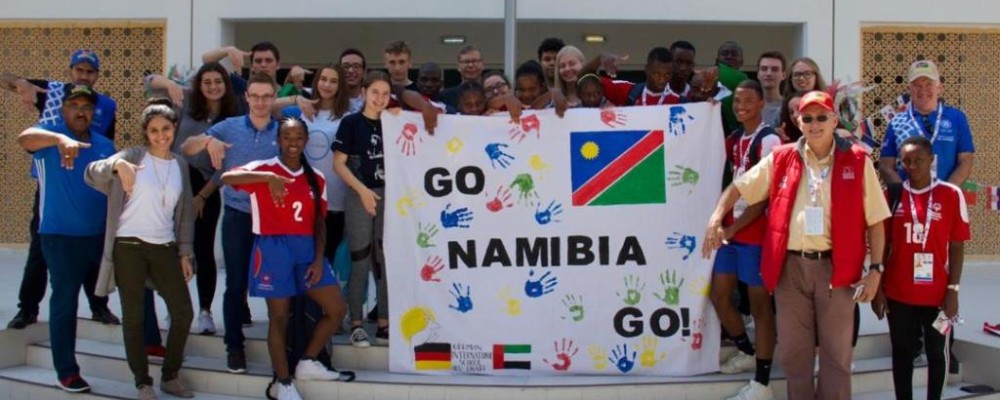 Experiencing joy, showing courage, strengthening self-confidence, building friendships between people with and without mental disabilities, developing skills and improving fitness - these are just a few of the goals of the Sport Organisation Special Olympics.
There is also a national committee in Namibia - the Special Olympics Namibia (SON), founded in 1998 - which works to strengthen the participation of young people and adults with mental disabilities and their social involvement through sport.

An exemplary integration project was launched as early as 2016:
Based on the most important goals in Special Olympics - bringing people with and without disabilities together, learning from each other and overcoming barriers together - athletes of Môreson School, 2 selected teenagers without a disability and an employee from Deutsche Höhere Privatschule Windhoek (DHPS) were selected to participate in basketball in the Special Olympics 2019 in Abu Dhabi.

For the DHPS learners Sarah Shivute and Hilton Swartbooi the event was a unique experience. "I benefited immensely from this trip and got to know many interesting personalities, languages, cultures and sights in Abu Dhabi – and I learned to appreciate the basketball court as a second home," says Sarah. During the eventful days of competition, around 7500 athletes from almost 190 countries grew together to form a large community - "That was the highlight for me: being part of this family," enthuses Hilton.

In addition to the exciting supporting programme - for example a visit to the German International School Abu Dhabi, the Burj Khalifa or the Warner Brothers Movie World - basketball was of course clearly in the foreground, especially for DHPS head-boy Hilton: "The competition was very tough and we were the only mixed team against men's teams. But despite various injuries, we gave our utmost and believed in ourselves!

And the strenuous training of the past weeks has paid off:

The basketball team of the Namibian Special Olympics won the bronze medal and provided many touching moments. Congratulations!
Gallery