BLI 2017: DHPS awarded as Excellent German School Abroad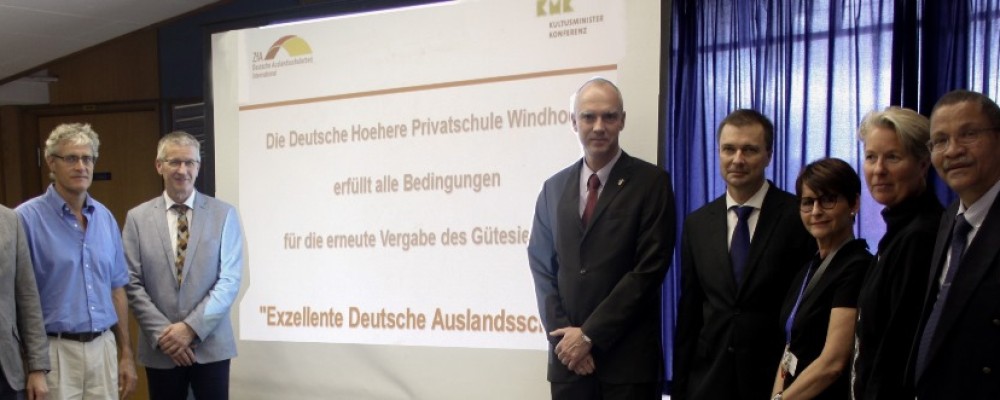 BLI 2017: DHPS awarded as Excellent German School Abroad
We have made it - with flying colours, and have been awarded as "Excellent German School Abroad" once again!

On Friday, 24 February 2017, the school renewed the seal of quality for being an "Excellent German School Abroad" by the Bund-Länder-Inspektion (German Federal State Inspection). The DHPS welcomed the team of inspectors from Germany, who took a close look at the school on the basis of a number of criteria. For example, the teaching quality, success of learning- and teaching processes, the school culture and - communication, results and achievements of the DHPS, the school management, administration, teachers and the topic of quality development were scrutinized.

The excellent result officially confirms that the DHPS is an excellent German school abroad and thus was awarded the seal of quality of German schools abroad. The impressive, positive atmosphere between learners and teachers, the involvement of the school community, the central concern of democratic values and the mediation thereof, the responsible handling of human and financial resources as well as good teaching quality were particularly emphasized.

Of course, the DHPS school community and especially the school's principal Ms Kristin Eichholz, are very delighted. She is proud and pleased to be the principal of the DHPS and during the official feedback she ex-pressed her gratitude also to the parents, "who entrust the school their most precious treasure every day".
The preparation and conduction of the inspection once more proved, that we as DHPS family can work together and successfully achieve the goals we jointly reached for.
We would like to thank all those who have been substantially involved in the school's achievement and the success of the inspection, - above all, our learners and teachers, the team in the school management and administration, the janitorial department, the school board, the parents, the parent committee and the steering committee. We are overjoyed and proud of our school!